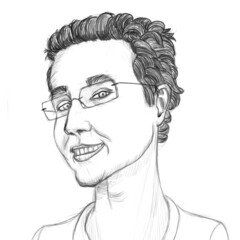 Dañiel L. Garcia
A 2D animator working with local and international artists
Trier, Germany
Summary
Hi, my name is Dañiel Garcia. I'm a traditional 2D animator based in Trier, Germany. Trier is a small town that can be richer in art and culture. I animate projects with various artists, local, and international.
All animation you see here is done in TVpaint. I can also do this in any other package, the software is just the tool, it's not the artist.
Skills
2D Animation
Anatomy
Character Design
Character Animation
Software proficiency
Productions
Commercial / Advertisement

Alphons' Adventures: The Bird God

Year

2021

Role

Animator

Company

Julia Thonig
Experience
Freelance Traditional 2D Animation Producer at Deruji Animation

Trier, Germany

I'm a trained traditional 2D animator. I specialize in character animation.

I do everything in the animation pipeline from Pre-Production (design, storyboards, layouts) to Post-Production (editing, compositing).

Internship at PHNM

Trier, Germany

Animations (After Effects), Graphics (Illustrator), Modelling (Blender)

Assistant for VOD/DVD/BD Production Services at Imagion AG

Udelfangen, Germany

November 2015 - September 2018

- Editing subtitles and assets ingestion for production (Eztitles, James)

- Video editing (Final Cut, Final Cut X)

- Testing picture- and sound-quality for DVD/BD/VOD

- Establishing automated processes for subtitle handling

Translator, Proofreader, Image Editor at AnimEigo

United States of America

I do various tasks for AnimEigo for their kickstarter projects, which include:

Metal Skin Panic: MADOX-01 Unobtanium Edition (scheduled for 2021)

Megazone 23 (2020)

Gunsmith Cats Explosive Edition (2019)

Otaku no Video Otaking Edition (2016)

Bubblegum Crisis Ultimate Edition (2014)

Transcription and translation of Japanese dialog, team leader for the German translation team, script checker, proofreader, image editing, clean-up, and reference checking.